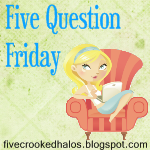 1. Do you know what your REAL hair color is?
Yes, it's the same color it is now! ha I've only colored my hair a few times & that was a few years ago. I naturally turn blonde-ish in the summer...all the stylists at my cousin's salon are jealous of my hair because I have natural highlights!
2.
Do you plan ahead for summer, or fly by the seat of your pants?
Anyone who knows me...knows I'm a PLANNER. I'm a list maker. Super organized. I'll be working all summer, but we do have a vacation planned for July. :) Probably some random trips to Lexington to see Z or Indianapolis to see J.
3. What is your favorite meal to cook?
Funny you ask...I just made it (sitting down to eat it while I type this!). Grilled salmon fillet & wild rice. Yum. Yum. Yum.
4. Do you get offended by not receiving thank yous?
Not any more. It's sad, but people just don't do that anymore. I always send out Thank Yous, but that is ingrained in me from 4-H, FFA, and Mary Kay.
5. How did you meet your best friend?


Well, that's a tough question...I have best friends from school, etc. But my BEST best friends....are my sister (J) & cousin (Z). I know, corny. We talk a lot & hang out. We're the 3 Musketeers! We've spent so many nights hanging out at my old apartment or here at home, or on the road for a trip! I value their opinions & always know I can tell 'em anything.