Finally another Friday! I feel like I've been waiting and waiting and waiting for it to get here this week! ha
I'm pretty pumped to be heading to Lexington this weekend to see my cousin, Z....and my mom is going too! We plan on doing a lot of porch sittin', enjoying cold drinks, shopping for new patio furniture, and taking mom to eat Mongolian for the first time! Should be a wonderful, relaxing weekend. Hope everyone enjoys the weekend...and the wonderful spring weather! :)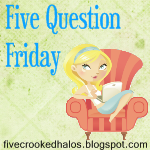 And on we go to 5 Question Friday:
1. If you could change one thing about yourself what would it be?

My weight! ha Seriously, it's a work in progress and going well so far. I'm down 25 pounds and gonna keep on going!


2. Write about a time when you got lost.

I'm not really the type to get lost. I used to panic if I took a wrong exit or turn, but after a year of traveling the state with the Indiana FFA, it doesn't bother me anymore. You can always turn around or stop and ask for directions. I also now have OnStar, so it's all good!


3. Camping or 5 star hotel?

I'd really love to say camping, but I'm a hotel girl. 5 Stars are optional. haha There is just nothing appealing about camping. And yes...I have gone camping before, in a tent no less. In Florida! And it rained EVERY stinkin day. Argh. Miserable.


4. Have you donated blood?

No. I always wanted to, but just never have...I'm kind of hard to "stick" and I refuse to be a pin cushion. Maybe one day I'll have the courage to go. I'm not afraid of needles in the least bit, but I fear bad technicians drawing my blood. ha


5. Do you have a budget or do you 'fly by' most months?

Ohhhh boy am I budget girl! I'm a list-maker by nature, so I pretty well have my cash mapped out. It makes life easier to know exactly what you can or can't spend. Of course there are times when budgets just don't work...haha...but it usually doesn't take much to get back on track.