Update on Weight Loss - I am down 2 more pounds this week!! WOOHOO! Friday has become my new favorite day because of weigh-in! ha
On this hopefully sunny, lovely, shimmery weekend (for my friend's sake on her wedding weekend!)....here is my Five Question Friday answers.
Hope you'll play along :)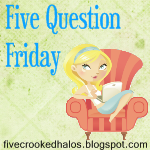 - - -
1. Do you and your spouse go to bed at the same time?
Well...no spouse for me. ha I would hope that if I were married, we'd attempt the same bed time.
2. A question for the ladies...What kind of facial hair do you like on your man?
Honestly, I like guys with a smooth face. I can handle a little scruff, but not for long. Just not a big fan of facial hair, especially if it's untrimmed!
3. What's the worst vacation you've ever taken?
hahahaha Oh My. It would have to be the trip I took with my sister and 2 college friends (Crystal & Ben) to Orlando, FL for the Capital One Bowl when Purdue played Georgia. It was a CRAZY road trip. We bickered. A LOT. We had a cruddy hotel room in the ghetto. I can't even begin to tell you about the people we saw - the hotel maintenance man with a sparkly studded belt, the large woman trying on a bra in the middle of K-Mart, and the sweetest UGA & Purdue fans that made us feel at home! That was one for the books.
4. What's the first-ever blog you followed?
I think the first blog I ever followed was my very good friend, Rajean's blog. I'm almost positive she was the reason I joined Blogger. ha So thank you Jean!
5. Do you enjoy amusement parks?
Heck no! I get motion sickness on amusement park rides. It's not that I don't like going because I do. I truly enjoy people riding and there are no better rides than the air conditioned rides on the hot summer days in Florida...like It's A Small World. hahaha Seriously! I just don't like being the one who has to watch everyone else's stuff (ya know...hats, purses, drinks, bags, etc) while they are off enjoying the fabulous rides. I get sick riding the Viking Ship at Kings Island. It's a sad state of affairs. :(