This week has been crazy! And since it has been so chaotic, I have not had time to join in on any of the weekly blog hops. *sad face* I can't believe I actually have the time to join this one...well, really I don't...but sometimes it's all about priorities, right?!? haha
Today's weigh-in results: I lost 0 pounds! Ugh. At least I didn't gain. My lack of exercise this week definitely showed itself.
So without any further hesitation...another Five Question Friday!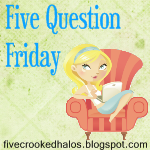 - - -
1. What is your favorite summer time activity?
My favorite summer time activity would have to be swimming. I don't get to do it nearly enough, but I do love it! Hopefully we'll make time to go visit a few friends and family members that have pools this summer. ha I do plan on lots of pool and ocean swimming in Cozumel! (2 more weeks...woohoo!)
2. Do you have one laundry soap you stick to, or do you buy whatever is on sale?
We definitely have ONE laundry soap we stick with. I have extremely sensitive skin and a lot of soaps/detergents make me itchy and rashy. No one, especially me, wants that...so ALL Free & Clear seems to be the winner. We've been using it for quite a long time and I haven't had any problems. :)
3. What is your favorite dinner to make in the summer time?
I enjoy any meal on the grill! We've been cooking out a lot this year...grilled chicken with grilled mushrooms and zucchini. Yum! OR we'll fix a strip steak and bake red potatoes. Double yum! Can't go wrong with those meals.
4. Do you have any talents?
hmmm...well, I used to consider myself a talented singer; however, the older I get, the more trouble I have with my voice. ha Other than that, I guess my talent would be public speaking. I have ALWAYS enjoyed it. I know that's most people's #1 fears, but for me it is second nature and thanks to FFA & 4-H, I've done a lot of it!
5. If you could instantly be an expert in something, what would it be? Why?
This is soooooo stupid, but I would love to be a pageant expert. I know, I know. Hold back the gagging noises! hahaha I can't help it. I was never in any pageants (and I'm sure that is a relief to all the gorgeous skinny pageant types), but I was the coordinator for a few and miss it. The last project I left behind when I was really involved was to try to start a local Miss Indiana (for the Miss America system) pageant. I just think it would be fun to do that all the time!