June is just zoom zoomin' by...craziness! I am so glad another weekend is here. :)
I am proud to report that I am down another 1.6 pounds this week! It is such a joy to update my Weight Loss Ticker at the top of the page each week. ha
And now onto another Five Question Friday!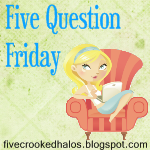 - - -
1. How close to your childhood dreams is your life now?
Oh my. Probably nowhere near close. Seriously. When I was a kid, I wanted to be a librarian because I LOVED to read. Still do. (Have I mentioned how attached I am to my Kindle??) I also thought I'd be married with kids now. Definitely not living at home. haha They always say that if you want to hear God laugh, tell him your plans. He must be having quite a chuckle at me!! ;)
2. What is one must have item for the summer?
Air conditioning. Pool. Sandals. Vacation. Ohhhhh wait. That's my dream list. I now work at a place where no open toed shoes are allowed (bye bye cute sandals). Still hoping for a pool one day. Vacation is quickly approaching! Thank you to the heavens!! And thank goodness I have air conditioning not only at home, but at work. My one item I can't make it through the summer without........capris! I love 'em! I had to buy some new pairs this year because of weight loss and just having worn the old ones out. :) At least I can still wear those to work with some cute ballet flats.
3. Do you have your kids stay up on school stuff during summer vacation? (Or, if you don't have kiddos, did your parents make you keep up on school stuff during summer?)
No school work for us during the summers as kids! We were always too busy with 4-H projects, farm chores, cleaning Grandma's house, and going over to the other Grandma's to swim in her in-ground pool! Boy I sure miss those days!
4. Do you can or freeze fresh produce?
Nope. Sure don't. We used to have a garden and go through the canning hoopla every year, but honestly, it's a lot of work. I itch and break out in rashes every time I get anywhere near weeds, leafy plants, or grass. (Fun, huh?) Although I love fresh veggies...we'd rather support local growers who sell at the Farmers Market than grow 'em ourselves.
5. Do you get ready for the day first thing in the morning?
Well, it's pretty much the first thing. I get up, do a short workout (usually abs with a dvd), and then I get ready for the day. I am a huge fan of morning showers. I shower every night after my main workout, but I can't function during the day unless I start it with a good shower. ha