August! What??? How did we get here already?!? I guess it's true what they say...time goes faster the older you get! ha If I could get some sleep, I wouldn't mind it so much, but alas...that doesn't seem to be in the cards.
For this week's weight loss update....*drumroll please*...I lost .2 pounds! haha It's not much, but it's a loss. I am pleased with that since I didn't exercise at all except for last Friday. I have been too tired to do anything. I'm hoping that changes after this weekend!
And on to the fun of Five Question Friday! Hop over to
My Little Life
& join us! One of my questions was once again chosen for this week's linky.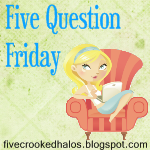 - - -
1. Do you have any siblings & are you close with them?
If you've been reading my blog for any amount of time...you'd know that yes, I have a younger sis. We are very close. As much as we are different from one another, we also share some similarities. I am glad that we've gotten closer as we've "grown up." Sure we still fight. Oh boy do we still fight! haha For the most part though, we enjoy spending time together and bouncing life's ideas off each other.
2. Would you rather be slightly UNDER weight or slightly OVER weight?
Seeing as how I've been overweight nearly my entire life (heavier than most kids by the 4th grade, but not really overweight until junior high), I would be okay with being slightly over weight. I am working to slim down, but I already know that I don't ever want to be "sickly" thin. I'm sure you know the type! I know a girl that did the lap band and she looks freaky now because she has lost TOO much weight. She doesn't even look like herself, which I guess is the point, but to be totally unrecognizable?!? To each his own. I know I'm never gonna be skinny, so a little extra padding will be okay. ha
3. What's your favorite State Fair food to splurge on?
Oh my! What don't I like to splurge on? ha This year will be a test as it's my first time to be conscious of what I'm eating while at the fair. Mom and I are going up Sunday to the Great Indiana State Fair! :) I definitely plan to have a deep fried candy bar. Those have been my fave ever since they came out! I was working at the State Fair that year and let's just say, we had more than 1 that summer. ha
4. What are your thoughts on your kid(s) going to school in a few weeks?
No kids for me, but I would think it would be nice to have them back in school and back on a schedule. Maybe that's the OCD side of me. haha
5. Pool or ocean?
You would think after all the HOURS upon HOURS of Shark Week I've watched, that I would say pool. Don't get me wrong, I love the pool and wish we had one because I'd swim every single day. There is nothing like the ocean though! I love swimming in the ocean, especially snorkeling, and getting to see a different part of our world. I've been in the ocean in some of the most amazing places in the world...the Great Barrier Reef and Cozumel. GORGEOUS!