Geez it's been forever and a year since I had time to link up with 5QF!
First of all, I must say that I was extremely lazy this week...and the scales say I gained 1 pound. EEK! I have got to be better about exercising this upcoming week. I would say starting today, but I'm not gonna lie...will be gone a few days and the food choices will not be all the great either. ha
Without further ado.......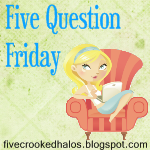 - - -
1.What ringtone do you have on your cellphone?
I have several ringtones on my phone...just depends on the caller! ha The Purdue University fight song plays on any number my mom calls from, for my sister it's Brown Eyed Girl, for my cousin Z it's Zac Brown Band's Chicken Fried, etc, etc. The main ring tone for all those "non-special" callers is King of Anything by Sara Bareilles.
2. What is your favorite memory from this summer?
My favorite summer memory would probably have to be our vacation to Cozumel! It feels like it was a lifetime ago (seriously, where did summer go?), but in reality it was only 2 months ago. Yikes. It's true what they say...time flies when you're having fun! ;)
3. Paper books or ebooks?
I am a fan of all books and have oodles of paper books shoved on bookshelves; however, I LOVE LOVE LOVE my Kindle!! No more hassle of lugging around 1 or more paper books...I have 25 or so at a time loaded on the Kindle. Superb!
4. If you could have one home upgrade, what would it be and why?
The one thing I would love to upgrade in mom's house is the bathroom. Suffice it to say, it has been over 50 years since it was last remodeled and it is in bad shape. It's to the point where it is just deteriorating. Maybe one day! ha
5. When was your first serious boyfriend/girlfriend?
I guess my first actual boyfriend was when I was a freshman in high school though I wouldn't call it serious. ha If anything, it was a serious lapse in judgment! ;) My first serious relationship probably wasn't until I graduated college and I dated a really great guy. I still occasionally get emails from his family (his sisters) and I don't talk to him anymore, but I hear he is doing well and I'm genuinely happy for him. It was not a bad ending. :)