YAY! It's the weekend!!!!!!!!!!!!!!!! hahaha :) Can ya tell I'm excited? I am so ready for the week to be over! I have lots to do today (as always) and the worst part is waiting on my sister to get home so we can all head to Georgetown. We'll be spending the weekend at my cousin, Zach's, but we're making a trip to Gatlinburg on Saturday! Definitely pumped! Should be a fun weekend...watch for pictures and the weekend recap.
This week I have been super duper lazy. I did not exercise once. Whoops! It started out that I had a good excuse...my knee was bothering from standing so much at the weekend Scentsy booths I had...but as that went away, I just failed to get motivated. I amazingly lost .2 pounds, so that is a plus! I MUST get back on the exercising bandwagon this week! *hold me to it!*
As always, I hope you'll join in on the fun of Five Question Friday!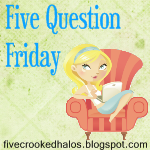 - - -
1. Do you prefer ice cream in a bowl or in a cone?
I am definitely an "in the bowl" kinda gal. When I was younger, I wouldn't even eat a cone! Now I do like them (preferably waffle over that cardboard-like crap); however, 9 times out of 10, I'll still order a dish of ice cream.
2. What three things do you love the smell of?
Oh my...that's hard! I guess my absolute favorite is the smell of fresh cut hay. If you don't live in the country or near the country, you can't know how good this smells! My sister always used to joke that it should be a candle with a motto "Made by Farmers, Captured by Glade." bahahaha :p One of my other favorite smells would have to be peanut butter cookies baking in the oven. YUM-O! That's my fave cookie...and no one ever makes 'em for me. :( So when I would smell them baking (my dad would surprise me with them from time to time as a little kid)....it would make me so happy! And the third scent would probably be coffee. It's such an awesome smell! I used to hate coffee, but have always loved the smell of it. Now I enjoy drinking it, as long as it's black.
3. Gift cards or no? (in regard to gift giving)
I say yes. I know it seems like a cheaters way out when you're not sure what to get someone, but I also happen to think that when you know someone LOVES a certain store or brand, I think it's a nice way to show them you pay attention to their likes. There are a few people that I know would prefer a gift card and I am all to happy to oblige! ha
4. What sports did you play in high school, if any, and do you still play them?
I played volleyball, but gave it up in favor of keeping the books for our high school's basketball and volleyball teams. I also did cheerleading my Freshman year. We always played sports at home with family, but I knew I wasn't "coach's favorite" at our school, so I tired of the games you had to play just to get any playing time on the court! I still enjoy playing a game of volleyball at family reunions. :)
5. Were you in band in high school? What instrument did you play?
Yes, I was. And no, we didn't go to any band camps! haha I started band in the 5th grade and played the trombone for a year. After much begging and pleading, my parents let me switch instruments. I played the flute from the 6th grade to sophomore year. I always preferred singing over playing, so after 2 years of being in band AND choir, I was allowed to quit band and just be in choir. Praise the Lord! I also took piano and organ lessons in elementary school. (my mom is a talented pianist and organist...she played for her first wedding at age 12!!)