Wow! Can't believe I actually have time to link up this week for 5QF! ha
Hope you'll join us :) (especially since one of the questions is mine!)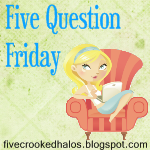 - - -
1. What is your favorite Christmas cookie?
I don't know that I really have a favorite Christmas cookie - if I had to pick, I guess I would say haystacks, though technically it's not a cookie and you could make them at anytime, but my mom only ever makes this at Christmas time! ha
2. What's your favorite holiday movie and why?
My favorite movie is probably How the Grinch Stole Christmas...and that was even pre-Jim Carey's Grinch movie! :) Growing up, I can't count how many times my sister and I watched the original animated version on VHS. It's always been a favorite, but the Jim Carey version just added to my love of the movie.
3. Is there a gift you bought for your kids that you wish you hadn't after they opened it?
No kids for me, but there are times that after I bought a gift, I wish I had gotten something different for someone. Usually their enjoyment of the gift made any lingering doubts disappear!
4. What is the messiest room in your house right now?
My bedroom. Ugh! It looks like a tornado blew through.... *sigh* I am NOT a messy person. I don't like things to be out of order (yes, OCD). I have been gone so much the past few months and even when I am home, I have no energy to do anything. I have no choice but to tackle the mess this upcoming week since I am hosting a Scentsy Open House for last minute Christmas shoppers at my house. Praying I find some energy to do it!
5. What is the furthest you have driven for the holidays?
For holiday festivities, I guess I would say Lexington to my cousin's house as that is our new family Christmas spot, but it is only about 2 hours away. I have; however, driven to Orlando for NYE with friends and gone to the Capital One Bowl game (football) on New Year's day. So, that is technically part of the holidays, right? haha That was a 14 hour drive!