I can't believe that April is coming to an end! Where has the past 4 months gone? Goodness! I'm so excited for summer to be here though...so much going on the next few months. Wait, who am I kidding, things are ALWAYS crazy busy around here!?! ha
Today's Weigh In - I lost 3.4 pounds!! WOOHOO!! Now a grand total of 30.4 pounds lost. Feeling great about it!
And on to today's Five Question Friday :)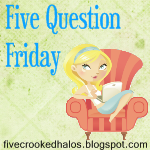 - - -
1. If you could buy any car, money not an option, what would it be?
I know most of you will pick a fancy sports car, but honestly my "dream car" has always been a soft-top Jeep. My mom and I have talked about this for years...although she prefers hard-top. haha I just think it would be so much fun to cruise around in the summer with the top off and enjoy the sunshine/breeze. :) I'm a summer baby, so I will always enjoy anything that has to do with the outdoors in the summer time!
2. What was your worst first date ever?
I personally think all first dates are pretty terrible...or maybe that is because I haven't met "The One" yet. ha It's always awkward and I'm never quite sure how much I should (or shouldn't) talk. I hate being the one who has to keep the conversation going! With all that in mind, I guess my worst first date would be when I got sick, canceled the date (stay with me people...), and he was sweet enough to drive an hour out of his way to deliver a Wendy's Frosty to my doorstep (cause he knew I was craving one due to a sore throat). Of course, I was NOT expecting him and he knew it would freak me out, so he just left it at my doorstep and called me as he was leaving the apartment complex. I felt even worse!! Argh. So, it wasn't a date, but it was. haha It definitely has to rank up there with some of the worst "first meetings" of all time.
3. How old were you when you fell in love for the first time?
I was 23, I think. To this day, I still try to keep up-to-date with his family but I don't speak to him anymore. He was a pretty great first "love." He definitely made my first year all alone out in the real world a little easier!
4. When was the last time you reconciled your checkbook?
Last weekend! (you'd know that if you read my blog...haha) I am pretty faithful about checking my statement online each week and of course, as soon as the statement comes in the mail, I get it done. Yeah, I'm nerdy like that.
5. If you were going to fashion a "Wanted" Ad for a best friend, how would you word it?
WANTED: Best friend. Must be young at heart, loves to laugh, enjoys travel, always has a camera in hand, can follow random conversations, and likes animals. Would be a plus if grew up on a farm, have lots of rowdy cousins, can laugh at her mistakes, text-aholic, and enjoys exercise.