Another Friday....another Five Questions! Whew!
It's been a freakin' C-R-A-Z-Y week around here. I feel like I've been rushing from one thing to the next. Argh. *deep sigh* Okay, now that my little tirade is over, I'll move on to the questions! ha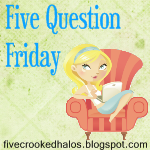 - - -
1. Have you ever had roommates?
Oh my, have I ever!?! haha A quick run down...my sister was my first roomie. Then I lived with 6 other teenagers as a State FFA Officer. And then I had the unfortunate experience of having a "pot luck" dorm roomie my Freshman year at Purdue; of which I always say they scraped the bottom of the pot for her! :p My Soph year I lived with 3 girls and 2 guys in an apartment. My Junior year I lived in the sorority house (we had a small house for only a few girls each year) where I shared the back half with 4 other girls. I have pretty much been on my own since then, with no real roomies to speak of, unless you consider my mom! ha (well, that turned into a long story, didn't it? ha)
2. How many names do you/your children have? (i.e. Prince Charming William Phillip Arthur Louis John Jacob Jingleheimer-Schmidt)
hahaha....too fun. I only have 2 real names, Erin Mary. I've had numerous nicknames over the years. For the first part of my sister's life, I was EE. That's what she always called me. As I've gotten older, I now kinda stick with E and some friends still call me Em.
3. Did you watch the Royal Wedding?
Yes sirree! :) I am a fan of the Royals. I've always like Prince William...maybe because we're only a month apart in age. ;) Suuuuure. I think Will & Kate are adorable together and they really look like they are genuinely in love. It's hard not to be attracted to that spectacular display of heartfelt emotion. I didn't get to watch the ENTIRE proceeding, but while I was getting ready for work from 5-6:45am, I did get to see a majority of the wedding.
4. What is the messiest room in your home?
Living room. It's a war zone. Toby's toys are the landmines of our lives. ha Seriously! Everywhere you look, Toby's toys are scattered around the floor. That is definitely HIS room, as his crate is in there as well for when he gets put to bed. He pretty much runs the house all other hours of the day.
5. What is your ideal Mother's Day?
Since I am not a mom...this really doesn't apply to me! I will say; however, that this year I am taking mom out to brunch at one of our favorite restaurants (Crossroads), which we haven't been to in a long time. We'll probably spend the rest of the day hanging out at home. Hopefully it won't rain the entire day so maybe we can sit out on the deck for awhile, but I'm not holding my breath on that one! ha