Last Friday of February! Holy smokes! This year is flying by...at warp speed! Or is it just me that feels that way? ha
First of all - I am PUMPED about today! I was already excited this morning and then electrician boy texted me about no more glasses or contacts and I got even more amped! haha :) I CANNOT WAIT UNTIL 2:15PM EST. So if you're not doing anything around that time, I'd appreciate a little prayer! I'm confident in my doctor's ability, but it never hurts to have a little God-power behind ya when you're dealing with something as big as your eyesight!
Okay, secondly - I was blown away when I stepped on the scales and it ready 260.8!! I almost couldn't believe it! I had to reweigh myself! (Mainly because I stepped on the doc's scales yesterday - I will talk about that appt when I have time to play catch up and it said 265.8 - of course I was fully dressed, with coat, ugh.) So that makes me officially down 3.2 pounds this week! I am 3 pounds up from my lowest WW weight. LOTS more weight to go, but I think part of the answer is always coming from yesterday's doc appt.
Again, I know, I need to fill ya'll in. Hang tight! ha
And although I have no time to do this right now (I'm at work), here is my 5QF answers!! Link up! :)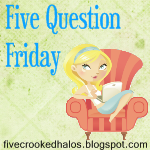 - - -
1. What's your favorite way to spend down time (alone or with a significant other)?
I enjoy my alone time, but let's face it...I haven't had a significant other in awhile and I would love some down time just relaxing
(like I had with coworker boy...ugh)
on the couch at home while having someone to talk to and laugh with. I don't need a fancy date. ha
2. Are you the kind of person that wants things more or as soon as you know you can't have it?
I definitely want things that I've been told I can't have, but the older I get, the lesser that urge is! I am a pretty realistic person, although optimistic, and I know what I can/can't afford or work to get. I move on pretty quickly.
3. If you were given $1,000 to spend on yourself, what would you buy?
hmmm...honestly, I'd love to have $1,000 to put in my savings account to build it up. Boring answer, I know. If I HAD to spend it, I would probably buy some clothes, jewelry, shoes, get a pedicure, run my car thru the carwash (do you know how expensive that is at a good car wash? ha), and depending on what was left....go out for a nice dinner or take a short weekend trip somewhere.
4. Do you ever go out to eat by yourself?
I don't normally make a practice of going out to eat by myself, but when I'm traveling, I have no problem with it. Let's face it, most people DO NOT go out when they are alone. It feels a bit awkward, no? When I went to Australia, that was my biggest fear...not having anyone to go out with! The first meal or two alone, I felt like an idiot...my imagination surely got the best of me in thinking that everyone was staring at the girl eating ALONE. hahahaha WRONG! Nobody even cares. By the end of the trip, I was confidently eating out alone at all types of restaurants (I was gone for a month, I kinda had to get over it). Now it doesn't phase me. If I want to do something and I can't get anyone else to go along, I'll just do it.
I am woman, hear me roar! :p
5. What company would you want to do a blog review for?
Um, Tiffany's? hahaha I would love to have some Tiffany jewels. Seriously. A boy could win major points with a Tiffany's bracelet...or hell, even the $100 keychain. Let's face it, I'm a sucker for silver pieces and although not that picky overall, it would be nice to say "it's Tiffany's." ha