Happy February everyone! I can't believe we're already into the second month of the year! Time has been flying by...I don't think I want it to slow down, but I also can't seem to get caught up. ha
I lost 0.2 pounds this week! Disappointed that it wasn't more and that I am 4 pounds shy of my goal, but I gave it a good effort!
And now for some 5QF fun...one of the questions came from me. :)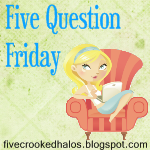 - - -
1. What have you done recently that you are proud of?
hmmm...my most recent accomplishment that I am proud of would definitely be having earned the Scentsy Incentive trip to the Hard Rock Resort in Punta Cana, Dominican Republic. I am sooo excited!! It's an all-inclusive, one week trip in June. I can't wait to take one of my family members!
2. What is your favorite way to work out? Or if you don't workout, what are you wanting to try?
I love to run on the treadmill and feel like my legs can't possibly take another minute and still be able to pull it out. I like tough workouts that make you sweat your ass off and you leave feeling exhausted. I still really want to try Zumba and pilates or yoga. My cousin is working to become a certified Spin Instructor and I'm sure that would kill me, but I would still like to try it.
3. If you knew your best friend was cheating on their spouse, would you tell?
I would think so, but that is a loaded question with so many weird scenarios that could play out. As the child of divorced parents (one who cheated), I have a lot to say on this topic and most of it is not good.
4. If you could afford a live-in maid or nanny, would you have one?
A maid would be great! Seriously, I hate dusting and I have to do it all the time because of allergies. I like things super clean and it would be great to not think about it, but just have someone come take care of it for me. Oh to dream.... ;)
5. Do you stress out about birthdays (specifically the age) or do you enjoy them?
I love birthdays! Well, maybe not LOVE, but I don't mind them. Age is just a number...and yes, I'm saying that even as I approach my 30th birthday. haha I have a lot of friends who have freaked out about it and I'm trying to plan something fun for my friends to do!