It's MARCH!?! What the heck! I cannot believe how fast this year has been going...it's a love/hate relationship right now. ha
Today's weigh-in...I am happy to report that I am down 1.2 pounds!! Woohoo! I'm going to have to work very hard this next week to fit in exercise and figure out my points. I have plans to eat out almost every night next week. EEK! It's good, but bad. ha
And now for some Five Question Friday fun! Join us over at Mama M's!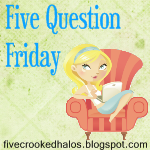 - - -
1. What is your favorite vacation spot and why?
The BEACH! Anywhere I can lay out on the sand and soak up the sun while listening to the surf is good to me. :) I have so many great memories from beach vacations that I couldn't possibly pick one spot. It's definitely a happy place for this land-locked gal!
2. What is your biggest guilty pleasure?
I have two....they are equally as bad vices! The first is Coca Cola. I'm addicted. ha I know it and my family knows it. I tried to give it up for Lent and failed on the 1st night. Argh. I know it will help me lose weight to give it up and I have cut waaaaay back, but I've never been able to give it up completely. The second is Little Debbie Nutty Bars. They are like crack. What's not to love about chocolate and peanut butter?? ha I cannot buy them or I will eat the whole box in far too short of a period of time.
3. What is your favorite fashion trend right now? Or in the past?
I don't think I have a favorite fashion trend. I've never been the type to be considered trendy. I look forward to the day when I can walk into "normal" stores and buy cute clothes that you see in magazines! I do love the riding boot look....but have not found any I felt I could pull off in my own wardrobe. And yes, I have looked. Multiple times. I do wear scarves which has been pretty popular the past few years. I have several that I love to mix up with different outfits and jackets. :)
4. What are your spring break plans?
As an adult with no kids...there are no longer lovely spring break plans! I will be working and listening to coworkers stories about their trips. I used to hate that right after graduating, but now I don't mind. I know my "spring break" will come later in the year when I take other trips!
5. What baby names do you hate?
I can't say that I absolutely hate any names. I have plenty of names that I do not like or would never pick for my own child (if I'm ever that lucky), but to each his own! ha I'm sure the names I would pick others might not like. I guess the one trend I really don't like is the weird celebrity baby names - Apple, Phineas, Pax, Zuma. haha Really?