Good Friday is here! Most years, I have an easy time with Lent, but this year...not so much. I broke my "what are you giving up" on about the 3rd day and although I haven't thought about it as much this year as in the past, I'm glad I don't HAVE to eat fish anymore on Fridays after today! ha I do love seafood, but when I'm forced to eat it...I don't want to. :)
Anyway, super stoked that I lost 3.2 pounds this week! I hope these big losses continue for a few more weeks! I having been working my booty off every night doing Slim in 6 dvd workouts (that's what I used to lose my first 30 pounds last year and forgot it when I got the treadmill...thus when I started slowing up my weight loss) and walking on the treadmill. I'm not going to be running for awhile. I've decided I need to slim down more before my knees can handle that. Counting calories is definitely working for me right now!
And now for the usual Friday fun...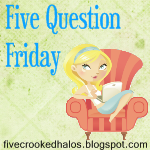 - - -
1. Would you prefer having people over for dinner or going to their house?
I think I really don't mind either way. I just like to be comfortable in my surroundings. Recently, I've been splitting my time between home and the boy's house for date nights/dinner and it seems to work out well. Having people over does make one feel the need to clean though. Blah!
2. Favorite bible verse and why?
I know it's way overused, but my friend Vonda always wrote it on everything and I still have it on one of my bulletin boards...I guess I've always been a bit of a dreamer (hence my tattoo saying Dream) and after reading the Dream Giver, it's nice to know that God places those dreams in your heart and mind, you just have to rely on your faith to get you there. Jeremiah 29:11 - "For I know the plans I have for you, declares the LORD, plans to prosper you and not to harm you, plans to give you hope and a future."
3. What was the first concert you ever attended and the most recent one?
I believe the first concert I ever attended was a Barbara Mandrell & Mandrell sisters show in Little Nashville (Indiana, people! ha). And the most recent one (was about 3 years ago) when my sis, her friend, and I went to the local Music Fest put on by our cousins who own a local restaurant. Some neighbor kids play in a band called 650 North and they played with a few other rock groups. It was cool, but not my scene. I have a whole list of concerts I'd love to go to, but no one ever invites me or I can't get people to go with me! *sad face*
4. The year is 2025. What are you doing and what have you done?
I would hope that I'd be married and watching my family grow. Maybe living somewhere different, but hopefully local to my hometown. (I have grown to love this little part of the world.) I would love to be working from home as a Scentsy Super Star Sales Director! I would have done more traveling and obviously since I'd be married, I'd have fallen in love with my Mr. Right. A girl can dream, huh?
5. What's your favorite Easter treat?
Without a doubt it's those damn Reese's peanut butter eggs. You have no idea how hard it is to stay away from them. Eating one is never enough. :p