Well, it's 4:40am and I can't sleep...not feeling too great. Blah.
After sitting on the couch, in the dark, for 20 minutes, I figured I may as well make the most of my "awake" time. ha
Don't forget to visit Mama M and link up!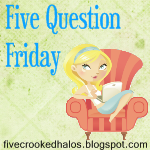 - - -
1. Do you prefer to drive to your vacation spot or fly?
FLY. After a few hundred road trips as a kid with my parents (where we made them suffer through approximately a billion rounds of This is the Song That Doesn't End), a road trip to a bowl game to Florida while in college with friends...I have had it with driving. ha Now that I have had the opportunity to fly as much as I have over the past 10 years, I could never look back! :) I love hopping on a plane and jet setting off to a new locale!
2. If you could live anywhere in the world, where would it be and why?
There are so many places that I haven't been, but if I couldn't stay in my own happy little corner of the world (hey, southeastern Indiana in the country is a pretty great place to live), then I would definitely pick Australia. I LOVED my time there! Plus, my dear friend K lives there with her sweet family. I miss them like crazy and being an email away rather than a drive away really stinks. Australia is gorgeous, doesn't really get as cold as it does around these parts, and it's full of fabulous people with wonderful accents. ;)
3. Should grown women wear leggings?
NO. I do not get the leggings trend. I think it reminds me of the stirrup pants that were so popular in the late 80's/early 90's. Besides, not that many women can truly pull of spandex type pants...in public. Give it up ladies. It's not cute. You do not look "put together" wearing an oversized shirt cinched in with a belt over leggings in some atrocious bold print ballet flats or boots.
stepping off my soapbox
4. If you could change your name to any other name, would you? What would it be?
It's kind of funny, but I can't picture myself with another name. There are other names that I like, but I don't think they would fit me. Ya know?
5. What magazines do you have subscriptions to?
Okay, now this is random. And it's funny to me, but annoying. I actually pay for no subscriptions. I really don't have time to sit down and flip through magazines. I can't say that I've ever really liked any magazine. Somehow...I get 2 magazines in the mail on a monthly basis. ?!? I am assuming that my grandma paid for them as part of some local kid's magazine sales fundraiser (why, oh why can't schools do something cool like SCENTSY - hint, hint - instead of the same ol' candy and magazines!). So...every month I throw away a copy of Rolling Stone and Marie Claire. True story. ha