Already nearing the end of September...and that is just craziness! I keep telling myself that I'll find time to slow down and enjoy life a little (not that I'm not enjoying it...just need a break), but never seem to find the time. haha Last night, my wonderful fiancee let me take a nap and it was glorious! :)
It's been fairly quiet this past week. We survived another weekend at Friendship and thankfully, I don't think we'll ever go back, but you never know. I tried out a new recipe last night. If you like crab rangoon, you'll love this recipe because they are baked and not fried! YUM! Eric decided it was even better than the Chinese restaurant ones he's had (and trust me, that place does them right). I will definitely be making those again!
And now since I can't log onto any systems at work this morning, I am going to join in on the 5QF fun! One of the questions is mine...so link up!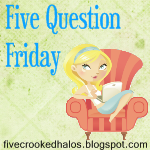 - - -
1.

What is one grammar issue you cannot let go without correction?
You, Your, You're, Their, There, They're - ahhhhhh! Come on people! It's not that hard. Drives me nuts when people cannot use the correct form of you or their.
2.
What's your favorite thing about fall?
Crisp cool air, leaves changing color, football, bonfires, tshirt and jeans, apple cider....oh wait, only one? Um, I can't do it! I LOVE LOVE LOVE fall! It's my favorite time of the year and there is not one thing I don't enjoy about it.
3.
What's your favorite dish to take to a potluck?
In our house, the usual go-to dish is what we call a 7-Layer Lettuce Salad. It is soooooooo good. My mom and her mom (gosh I miss Grandma!) have been making it for as long as I can remember. It's lettuce, mayo, carrots, cauliflower, peas, bacon, and pretty much any other type of veggie you'd like to throw in. It's one of my faves although the mayo definitely doesn't make it that healthy. ha
4.
When do you start Christmas (Holiday) shopping?
Honestly, I usually am almost done Christmas shopping by now. This year - haven't even started. Mom and I did discuss what we thought we should get a few people this year, but nothing has been put into action. I really love trying to find the right gifts for people...things they want, but won't tell anyone or things I know they need, but would never ask for. It will be fun shopping for the new people in my life this year (Eric, the girls, and his parents).
5.
Did you move homes a lot growing up?
Nope. I lived in the same house from birth to 3rd grade, moved into the house my parents built from end of 3rd grade until my Junior year of HS, and then moved into my grandparent's home (that mom bought from them) my Senior year of HS. I spent much of my life living in grandma & grandpa's house. It's actually the home I live in now (after moving around up at college and in Indy when I lived on my own). Looking forward to my next move being wherever Eric and I settle down together. :)