For starters, I weighed today and came in at 273.4 pounds. That means I am down 1 pound since last week (really 5, cause I gained 4 over the weekend, but who's counting?)!
Trust me, that was not an easy feat after falling off the wagon on Saturday night and Sunday. It's SOOOOO hard to eat healthy while the girls are with us because they are THE pickiest eaters alive and will only eat Doritos, pizza, pizza rolls and cheesy hot dogs. Ugh.
And it's been FOREVER (like probably 6 months), but I am actually going to participate in Five Question Friday with Mama M! Yay!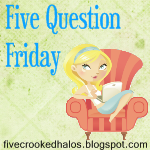 - - -
1. Would you go to your high school reunion?
I would love to say yes because I am still friends with several classmates, but the reality is...I didn't make our "faux 5 year" aka our 7 year nor did I make the 10 year. So maybe the stars will align and I'll make it to 15 if we have one. 2 more years til then! ha
2. What's something you've recently splurged on, either for yourself or someone else?
Probably the biggest splurge right now is our wedding and honeymoon. Everything we do is budgeted down to the penny!
And I realize that isn't gonna get any better since we're gonna be saving to build a house immediately after the wedding.
We bought some new clothes and some travel stuff for Eric for the honeymoon. It's fun, but also expensive!
3. How do you handle your child's fever?
I have no child of my own to worry about this. Eric's girls have been sick a time or two, but he has been the one home with them during that time. I'm not one for much drama, but I'm sure my mom would say I acted like them at that age.
4. What's the nicest thing to happen to you lately?
hmmm...that's tough. I don't know that anything necessarily jumps out at me. Eric is always doing little things to make me feel loved. The nicest was probably this morning...I had just finished exercising and was all sweaty/gross/worn out and was gathering my stuff for a shower. Eric had just laid down in bed (he's on nights) and said, that he understood I was working myself so hard so I would feel better in my dress, but that no matter what he would always love me.
And that is precisely why I exercise and push myself...he deserves someone who takes care of herself and will be around a long time to take care of him!
5. What is your current favorite song?
This one is tough. Every song that comes on the radio...I sing along to. Even the artists I don't like.
Damn that Taylor Swift and her catchy tunes. Can't stand her though.
I am currently really loving 2 songs - Just Give Me a Reason by Pink and Girl on Fire by Alicia Keys.