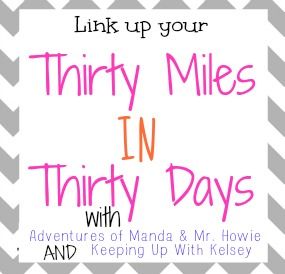 I can't believe it is October!! I am still missing fall weather...as it's been so dreary these past few days with rain. Ugh!
Sadly, I didn't get my 30 miles in for September. I ended the month with 27 miles and for my first time doing the challenge since April, I felt good about it, especially since my leg/ankle is still healing. I came down with the same thing Eric and Emma had the other week...sore throat, earache, and stuffiness. I can't really take anything because of the blood thinners, but I was able to take a decongestant (which I'm not sure helped), but I'm feeling much better now!
Oct 1 - none
Oct 2 - walked 2 miles with Leslie Sansone dvd
Oct 3 - walked 2 miles with Leslie Sanson dvd
Week 1 Total = 4 miles
Total so far - 4 miles
And now...outside I go to check on our lil girl, Sadie. This morning we discovered that she has roundworm. Gave her a medication for it and she seems to be doing better, no more signs of worms, so we'll have to wait and see. So far they have found homes for 3 of the puppies!