First 5 Question Friday of 2012! Woohoo! haha
Also, I am ecstatic to report that I am down 4.4 pounds!!! Hoping to keep this momentum going! Now that I am feeling a little more alive today (although I have a serious head cold right now), I plan to exercise over the weekend...and on into next week. I thought I would have a tough time counting points this week with it being my first week back in way too long, but it went really well. I was extremely faithful to my points and it shows.
**My goal is to lose 10 pounds by the first weekend in February because I'm doing the Super Bowl Zipline in Indy and they have a weight limit, which I am currently JUST squeaking under. With coats, shoes, clothes (let's get real, I don't weigh with that extra stuff on! ha), I want to make sure there is no fear for me not to be able to do it!**
And now on to the usual drill...hope you'll all link up with Mama M and join us for 5QF!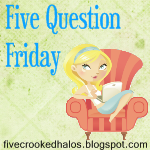 - - -
1. What is the weather like where you are and do you like it?
Well today the weather is supposed to be in the balmy 50's! I mean...January...and it's 50?? I'm used to lots of frigid temps and snow this time of the year. I'm not complaining, I don't like snow unless it's Christmas and that ship has sailed! Unfortunately all this wonky weather with the highs and lows has everyone sick. Definitely could live without that part.
2. When you're sick, what do you seek comfort from?
haha...I can easily answer that since I am currently sick. I seek comfort from HOME. I like to be at home, with nothing to do, napping when the urge hits and not having to deal with anyone. I'll admit I'm not a great patient. Yesterday was perfect being able to lay around and besides Toby being a pest, have the house to myself and just get the miserable-ness out of my system!
3. What do you need to do before the end of the month?
Um, the biggest thing is sell some more Scentsy!! I am INCHES...I really mean just INCHES away from earning the all-inclusive Scentsy trip to Punta Cana, Dominican Republic in June! I have until January 31st to finish the qualifications - so if you are in need of any good smelling stuff - head over to my website at
www.savorthescent.com
! This month we have 20 awesome previous scents back on the market...I am in LOVE with Coffee Tree, Toasted Caramel Sugar, Cranberry Spice, and Bubblegum. :)
4. Have you ever served on a jury?
No. Thankfully not. I think our justice system is a crock of you know what! I always wanted to be a lawyer and it's a good thing I'm not because I wouldn't be a happy camper. ha Whenever those jury duty surveys come, I am extremely honest on it. hahaha My family asks me for help filling theirs out so they don't have to do it either!
5. If you could be any animal, what would you be and why?
I would be a polar bear. They are my favorite! Big, beautiful white fluffy bears. I know they are extreme predators and on the extinction watch list...but how can you not love them? ;)