Mama's 5 Question Friday is baaaaaaccckkk! *happy dance* It's back for only this week! *sad face*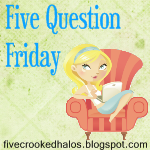 I'm excited, even if it is only for one week...so hopefully you'll link up today!
- - -
1. If I had 5 minutes alone with Mother Nature, I would tell her...
If I had time alone with Mother Nature, I wouldn't do much talking...I'd give her the beat down of her life.
Joking.
But seriously. I am OVER this crazy weather. We get one beautiful, lovely, sunny, amazing day. And then...and then? It snows. It's 30 below. I am tired of the germs and crankiness exhibited by many. So Mother Nature, take a pill and get over it! How about letting us have our spring and summer?!?
2. If you could eat only one thing for a whole week, what would it be?
I eat a lot of chicken. I like chicken, but honestly...if I could only eat one thing, it would have to include a few more food groups, like pizza! ha I love love pizza. I could easily eat it for a whole week. ;)
3. What is your favorite season and why?
FALL! I love autumn weather. The days are still sunny and fairly long, but you also get to enjoy not sweating to death all the time. I enjoy seeing the leaves change color and being able to wear jeans/sweatshirts. Fall also brings on bonfires with friends and college football!
4. Do you have a meal that you are AMAZING at making? If so, share the recipe!
I do have some meals that my hubby loves...however, I can't say they are anything special. Ya know? If there's a recipe, I can follow it and generally have no problems with it turning out. One of my favorite Pinterest recipes (that the family enjoys) is Bubble Up Enchiladas. Yum! It's so easy and you can make it as spicy as you want. Just search for it on Pinterest...you'll find it! ha
5. What has changed in your life since the last 5QF? (8/2/13 was the last one!)
Where do I start?? Sooooo many changes have taken place since the last 5QF. I was still dealing with blood clots and had 2 more visits to the hospital after that date. I lost my job of 3 years and spent 6 months unemployed, having now been at my new gig for the past month. I started exercising with a personal trainer and have truly enjoyed the past 7 weeks...4 more to go! We enjoyed family time at Christmas and Valentine's Day saw my sister-in-law getting engaged. We lost a very special person in my husband's family (his maternal grandmother) and recently spent time with his family picking out special pieces to remember his mamaw and papaw by from their home. We also went to court seeking more time with my step-daughters and unfortunately the law did not prevail on the right side....so we are still dealing with an evil troll for every single moment Eric is entitled to with his children (while paying off a hefty lawyer's bill).